Rock Climbing Equipment
Over the past few years Rock climbing has gained immense popularity in adventure lovers around the globe. More and more people every year turn to this sport to quench their thirst of adventure and to do something really challenging. But with all this thrilling experience, comes the danger of fatal injuries or getting disabled for the rest of your life. However, rock climbing is not like your average sport, instead it is a lot more challenging and requires optimum physical fitness. That is why, rock climbing is not for everyone but if anyone wants to give it a first try it is better to start small at an indoor facility. If you are climbing for the very first time, then there are some things that you must know and that is exactly what you will find here.
When it comes to rock climbing, it is recommended that you should not start with rock climbing directly, instead you should go for bouldering. Bouldering has shorter routes and also does not require ropes and other gears, which means falling does not hurt a lot. After you have gone through a number of sessions of bouldering, you can then move on to top roping. One thing to remember is that when you are starting top roping, try indoors because there are very less aspects to think about like unstable footing, glare and wind.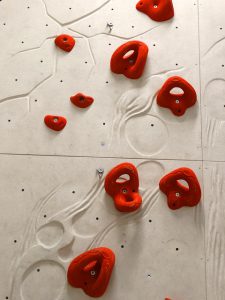 Rock climbing is without any doubt a very difficult, it requires a lot training, hard work and the right clothing. it requires all your strength and focus. You wouldn't want to get distracted by what you are wearing. So you really need to choose clothes that feel comfortable to wear but are not too baggy or oversized as they may cause hindrance in climbing. Clothes made from stretchable material are perfect for this activity.
Having a strong grip on the rocks is a very important thing that you should be kept in mind. This is where shoes come in, without the right shoes it would be impossible to climb rocks.You can't just climb with an ordinary shoe, you'll be needing proper climbing shoes, which provides with extra grip, and can handle the extreme stress it has to go through. They are generally made with multiple layers to give that extra bit of toughness, plus the specially designed sole make sure that you get superior grip every time your shoe comes into contact with the rock.
These were a few things that you should know about rock climbing, it is without any doubt a very challenging exercise, but if you do it once you will want to do it again. If you follow the above mentioned tips, then you can make rock climbing a lot easier for yourself. The right equipment is very important if you want to make rock climbing a lot easier for yourself. Believe it or not, if you have the right equipment for rock climbing you will be able to cover a lot more distance in very less time.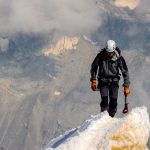 Rock climbing has become way more popular now than it was ever before. One of the biggest reason why it is becoming so much popular now is because it has become much more safer now.
Categories: Rock Climbing