Important Things About Mountain Climbing
Adventure is something that you always want in your life, rock climbing is one such kind of adventure that you will always want to do. However, rock climbing is not like your average sport, instead it is a lot more challenging and requires optimum physical fitness. That is why, rock climbing is not for everyone but if anyone wants to give it a first try it is better to start small at an indoor facility. If you are climbing for the very first time, then there are some things that you must know and that is exactly what you will find here.
It is very important to first learn about your environment and carefully plan out every move. Acquire as much knowledge as you can about the sport. It is to be noted that rock climbing not only requires you to be physically fit but it also demands mental toughness. Read some books that solely educate you about rock climbing. Read about experiences of professional climbers to get the real picture. Watch documentaries on rock climbing to visualize the real scenario.
Get yourself familiarize with the gear you'll need. Do some research about when is the best time to climb, learn about different weather conditions, and how to asses an environment (wind speed and direction, humidity, temperature and etc.). Last but not the least talk to professionals, as they are the best guides you can have.
When you are switching from indoor climbing to outdoor climbing,one of the most important things that you have to think about is the gear that you are wearing. You should begin with the footwear, proper footwear is absolutely necessary because it can make the all the difference. If you do not wear good quality footwear, it will be very difficult for you to maintain your grip on the rocks. Other equipment that you will also need during rock climbing is top rope, climbers, harness, lead rope, carabineer, chalk bag and belay device.
Mental fitness is absolutely necessary when it comes to rock climbing, if you give up easily, you don't push your limits, you easily panic, then you might not want to go climbing because while going up the hill it's important for you to stay calm, find best solution to problems quickly, and don't panic when conditions are not in your favor. Physical fitness is equally important and it should be kept in mind at all times. Walking, running, hiking, weight lifting, skiing, snowboarding, uphill cycling all these will help you to prepare physically.
These were a few things that you should know about rock climbing. It is undoubtedly a very difficult and challenging task but it is also fun at the same time. You will never find a climber who does not enjoy what he does because it is simply impossible. These were only a few things that you should know about rock climbing, there are many other important tips that you can find but if you stick to these points then you will make a lot easier for yourself.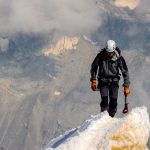 Rock climbing has become way more popular now than it was ever before. One of the biggest reason why it is becoming so much popular now is because it has become much more safer now.
Categories: Climbing, Mountain Climbing